Furrion Vision S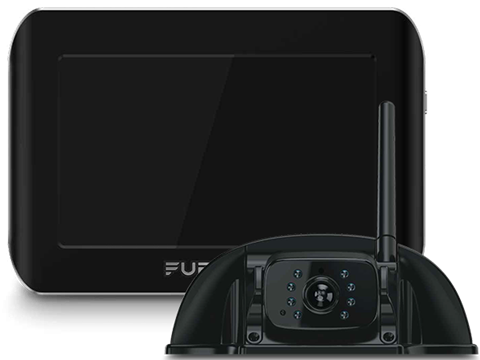 New from Furrion, the Vision S wireless reversing camera is a high-performance vehicle observation system designed for the road as much as it was for the campsite! From reversing to changing lanes this wireless camera kit keeps an eye out for your RV!
The observation systems are wireless and features a 7inch high-resolution touch screen monitor that can show up to four camera images. The 2.4GHz wireless communication digitally locks to the camera system resulting in minimal interference up to approximately 500 feet. All cameras offer from 65 to 120 degree viewing angle, night vision, motion detection and auto wake function for extra security when the vehicle is stationary. High-resolution live-steaming cameras for both sides of your vehicle and cameras to help you reverse safely.
A heightened perspective.
Our high-performance vehicle observation system was designed for the road as much as it was for the natural world. It offers you full range of view for smooth mobility and extra security for peace of mind. Because you should enjoy the drive as much as the destination.
High speed, easy manoeuvring.
Take control at the helm with responsive, precise driving technology.
How it works.
Engineered for high speeds and the outdoors, our infrared lens filter and image sensor produces sharp, true-to-life colour renditions, while night vision gives you a clear view of up to 52ft—all without interference or lag.

Over 300 independent stockist throughout Australia & New Zealand
FIND YOUR NEAREST STOCKIST
Posted in News